Tractor Hire

Aberdeenshire and North Scotland
Are you looking for tractor hire in Aberdeenshire?
Over the years, Telford Contracting Ltd has grown to be a recognised and trusted name for reliable hires of tractors, balers, combine harvesters, telescopic handlers, and other agricultural machinery.
With a wide range of machinery, we can provide our customers with complete solutions that tailor to their needs.
You can hire both used and new equipment on an operated hire or self-drive.
Our hire terms and packages are flexible to suit your project, with long- and short-term hire available.
If required, we have a full range of servicing contracts on offer, which includes ongoing maintenance for long term hires. Please simply get in touch to discuss your requirements.
With outstanding versatility, optimum reliability, and proficient fuel economy, our vast range of equipment and machinery are well-engineered to increase productivity and reduce workloads.
We additionally have a range of specialist accessories to tackle all aspects of agricultural contracting tasks.
Tractors are machinery that is mainly used for farming and agricultural purposes. They are driven by farmers around the fields to carry out daily farming jobs that are essential to keep the livestock and crops healthy.
These farming jobs include harvesting, fertilising the crops, ploughing the fields, planting seeds, cultivating, and also moving other machinery to different fields.
There are many different types of tractors, which are used for different jobs within the farming industry. Here are a few of the main ones:
Sub-Compact Utility Tractor: These tractors are mainly used for maintaining the land
Compact Utility Tractor: Compact Utility Tractors are used for agricultural purposes
Utility Tractor: These tractors can have attachable parts so it can be used for many different tasks
Speciality Tractors: These tractors are used for the tasks that need specific maintenance, including a special type of crop
Backhoe Loaders: Backhoe Loaders can be used for the heavier and larger tasks around the farm, including transporting machinery
What are the Advantages of Using a Tractor?
There are a wide range of benefits to using a tractor for farming and agricultural purposes, including:
They are easy to operate
They can be used for a variety of farming and agricultural jobs
They are very powerful
They can withstand bad weather conditions
They make jobs quicker and easier to complete
What Size Tractor do I need for 100 Acres?
You need to make sure that then tractor you purchase is powerful enough for the amount of land you have. You also need to ensure that the tractor you buy isn't too powerful for the amount of land you have.
For 100 acres of land, you will need a larger scale tractor, with a larger amount of horsepower. This will most likely need to be around 80-100 horsepower.
What is the Best Size Tractor for a Small Farm?
For smaller farms, so usually below 100 acres, you will need a tractor with a smaller horsepower. There is no point buying a tractor that is too powerful, as you won't need it.
It is recommended to get around a 30-60 horsepower tractor for smaller farms. If you would like some advice on what size tractor to get for your farm, please get in touch with us, here at Telford Contracting Ltd.
If you are looking for tractor hire in Aberdeenshire, contact our experts today.
We offer the best prices for agricultural contracting in Aberdeen, Dundee, Peterhead and the surrounding areas of north Scotland.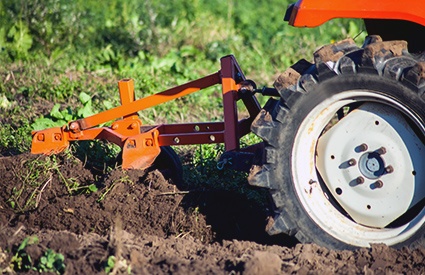 Telford Contracting Ltd always ensure our customers are well catered for; customer satisfaction comes first, and we always strive to exceed your expectations. Our machinery is sourced from reputable manufacturers and regularly maintained to ensure optimal performance.
The experience that we have gained for years gives us the confidence to deliver our promises on all our machinery and services. We have a committed team of delivery drivers, who ensure that the chosen plant item is supplied to you on time and in a working and safe condition.
If you are looking for plant hire in Aberdeenshire, contact our experts for plant contracting in Aberdeen, Dundee, Peterhead and the surrounding areas.