Telford Contracting Ltd specialises in supplying and spreading rock salt and grit throughout Aberdeen, Dundee, Peterhead, and the surrounding areas. Our products are available in 25 kg to 1 tonne bags, or larger bulk deliveries. We work with private and commercial clients across all sectors, including hospitals, schools and government buildings.
We are proud to offer a prompt response; all orders placed before midday are delivered the next day unless otherwise arranged. For larger enterprises, you may want to consider purchasing in bulk to enjoy a discount; our salt has a long shelf life and doesn't require specialist storage. If required, we can arrange emergency deliveries inclusive of the spreading service.
As the winter season nears, we additionally offer preventative gritting packages available at affordable prices.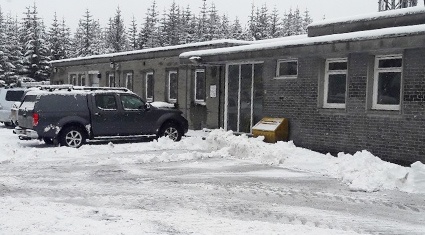 Q: What is Rock Salt?
Even though they share similarities, rock salt used to melt ice is different from the table salt you consume in your food. Rock salt is usually mined from underground deposits, and it's scientific name is Halite. Due to their high content of sodium, they are not suitable for safe human consumption.
Grit spreading is usually performed before a freezing forecast to provide traction against slippery surfaces, while rock salt is used to melt ice after severe weather.
Telford Contracting Ltd provides a comprehensive and reliable gritting and salt-spreading service for private and commercial properties across Aberdeenshire and beyond. Our winter maintenance packages are flexible to suit the requirements of your business and tailored to weather in your local area- we regularly monitor for freeze alerts so you have the peace of mind that if the temperature drops, your property will remain safe to access.
For your free, no-obligation quote, please simply contact us on 01569 668 110.