Field Drainage Contractors
Whether you have a working field of crops or plots of land for pasture, it's paramount to monitor the moisture level of the soil. If you have a problem with flooding on your land, we have the solution. Telford Contracting Ltd has highly skilled, field drainage contractors. Our professional operatives fully equipped with the whole range of the most up-to-date machinery to bring your land into optimum condition.
Water is a good thing, but a piece of land can have too much of it. When the soil becomes saturated with water, the field becomes waterlogged, with pools of stagnant surface water. Not only is this a fantastic breeding ground for insects, when there is too much water, the oxygen needed for the plants to breathe is squeezed out, leaving crops to drown.

Telford Contracting Ltd will analyse your land and its needs, and work closely with you to design a bespoke solution to your problem that will produce a result that causes minimal disruption to your land and business.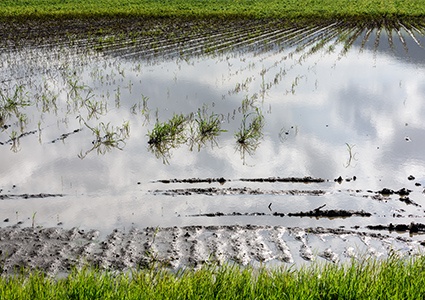 Q: What causes flooding and standing water?
A piece of land becomes waterlogged when the volume of incoming water is more than its total drainage output, including how much water the soil is able to absorb. This can either be rainwater or a flooded river nearby; excess water will simply sit on the surface of the land, creating unsightly pools and puddles. It's great for wildlife such as ducks and insects, thought not as much when it's a working field.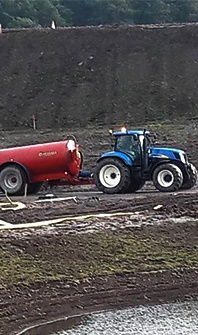 If you are answering "yes" to one of the questions below, chances are you can benefit from a free, no-obligation quote from Telford Contracting Ltd to analyse and assess the current drainage capacity of your field:
Am I near a body of water (pond, river, streams)?
Do I have heavy clay soil that seems only slowly permeable?
Do I have a medium-textured soil in a high rainfall area? Soils of this kind are when sodden vulnerable to compression and compaction, which squeezes oxygen out of them.
Is my soil light-textured (soil with high sand content)? Soils like this drain easily, but in low lying areas with a high water table, it can flood and easily suffer erosion.
Is the amount of organic matter in my soil insufficient?
Telford Contracting Ltd can respond to drainage emergencies as well as implement long-term maintenance plans. Having a sufficient drainage plan will not only improve the efficiency of your crops, it also means that you are less likely to deal with the stress and financial implications of a flooded land in the future.

If you require an agricultural contractor in Aberdeenshire, get in touch with our experienced team. We offer tractor hire and contract machinery for farms throughout Aberdeen, Dundee, Peterhead and the surrounding areas.