Agricultural contracting is a valuable resource for labour and equipment, even for seasoned farmers with established local farms.
Agricultural machinery often has a high initial capital which makes it cost-ineffective to own, particularly if you only need it on an infrequent basis.
Additionally, you may require special training and license to safely operate some of the machinery.
Contact us today to ask about our agricultural contractor services throughout local areas in Aberdeenshire and Scotland.

Tractor Hire Contractors
Does your agricultural business require tractor hire to assist with the seasonal activities of your farm? Well, here at Telford Contracting Ltd, we can help!
Telford Contracting Ltd are proud to be one of Scotland's leading agricultural contractors, providing a comprehensive and flexible range of agricultural services to farmers and landowners throughout Aberdeenshire and Scotland.
We have a fleet of modern tractors, tankers and trucks to choose from. Our agricultural machinery is regularly maintained by our engineers to ensure a reliable and efficient operation for your business.
Some of our services include, but are not limited to: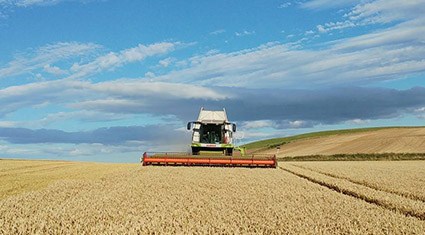 You can count on Telford Contracting Ltd to boost your harvesting capacity with our efficient combine harvesting agricultural contractor service. We specialise in offering a tailored solution depending on the size of your farm and type of crops.
If required, we can additionally provide essential feedback such as yield maps for future analysis. We optimise the process to prevent the damage or wastage of crops during harvesting.
If you need any more information, please visit our website or contact us today. We have years of experience in the contracting industry and have gained expert knowledge so we can give you the best advice.
Dry Sowing & Hydro-seeding
We have specialist attachment units which are capable of carrying out several sowing methods, including broadcast sowing and hydro-seeding on irregular grounds throughout Aberdeenshire and Scotland.
Whether you require a one-off application or as part of an ongoing agricultural contract such as spraying and maintenance, we provide a cost-effective and tailored solution for all types of crops.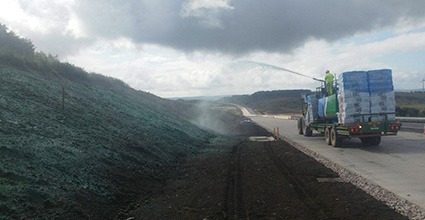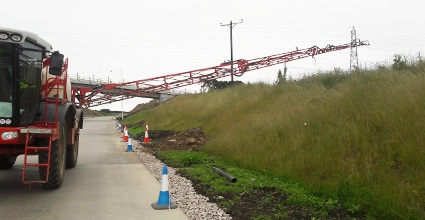 Fertilisers are a fantastic way to increase the quality and quantity of your crop yield, and Telford Contracting Ltd can help you achieve that. We can supply, deliver and apply a large variety of solid, liquid and compound fertilisers, sourced from reputable manufacturers in the agricultural industry.
Each application is carefully calibrated and planned to ensure an even and accurate spread to each area of the field.

Telford Contracting Ltd is proud to announce the acquisition of our latest machinery- a Tanco orbitary bale wrapper which means we can now offer a rapid bailing/wrapping service in addition to our existing agricultural silage services.
With over 20 years of experience, we are more than happy to provide advice and guidance on how you can maximise the quality of your silage and haylage for the benefit of your livestock.
Telford Contracting Ltd additionally offers a large variety of other agricultural contracting services; we specialise in providing a one-stop solution for landowners and farmers across Aberdeenshire and Scotland.
Our business is focused on offering you the best terms for agricultural contractors based in Aberdeen, Peterhead, Dundee and the surrounding areas. We can add value to your agricultural business by offering the best machinery in the north of Scotland.
All of our agricultural contractor personnel are fully trained and licensed for your peace of mind; our vast fleet of machinery and attachments are regularly inspected and maintained to the highest standard for efficient and reliable operation.
Westhill
Aberdeen city
Dyce
Altens
Portlethen
Bridge of Don
Kingswells
Badentoy
Ellon
Stonehaven
Peterhead
Dundee
Perth
Banchory
Inverurie
Forfar
Kintore
Turriff
Hazlehead
Oldmeldrum
We offer the best terms for our agricultural machinery contractors. We can help you map out agricultural services to suit your business requirements. If you are based in Aberdeenshire, ask us if you would like to view our machinery or you can read through our websites to find out more about our agricultural machinery for hire.
If your business requires an agricultural contractor to improve your farming productivity, contact us today. If you have any questions regarding our services or would like to discuss how we can help maximise your crop yield, please simply call 01569 668 110 or send us an e-mail via our contact form.