Plant And Agricultural Contractors Scotland
If you are a farm manager in Aberdeenshire you will understand the costs and importance of quality agricultural machinery. We offer an agricultural contracting service for farms and businesses throughout the Aberdeenshire area.
Since 2002, Telford Contracting Ltd has offered reliable and efficient agricultural contracting services to clients across North Scotland including Aberdeen, Dundee and Peterhead. All of our farm and agricultural services are carried out by fully-qualified and experienced operatives who are directly employed by us.
Our company have a proud fleet of agricultural machinery and a versatile range of accessories and attachments for all aspects of agricultural contracting including fertiliser spreading, hydro-seeding, silage work, tractor hire and more. We can provide specific contract terms for your business requirements.
If your budget is limited and you only require farm machinery for a short seasonal contract, our Aberdeenshire based contractors are available to add value to your business.
Some of our farm machinery is also available to hire on a self-drive basis. Simply give us a call and we will be more than happy to discuss your requirements. For more information regarding our services, please visit the links below:
Why Choose Telford Contracting Ltd?
---
We have over 20 years experience as Abrerdeenshire and north Scotland's premier agricultural contractors.
Our services are flexible to suit your needs in all aspects of farming and livestock management, from preparing the land to assisting in yielding a harvest.
Our company takes pride in having built an outstanding reputation across Aberdeenshire and beyond, with happy customers all over Scotland.
Our team of employees are fully trained and licensed so you can be sure that you are working with seasoned experts.
Customer satisfaction has always been at the heart of the business and you can expect a friendly, professional service from the first point of contact with our company.
We have quality farm equipment to suit a large enterprise or a family farm.
If you have any questions regarding our services, please don't hesitate to get in touch.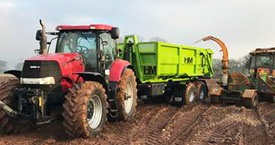 Telford Contracting Ltd has a comprehensive fleet of high-spec farm machinery for Aberdeenshire businesses.
We also offer an array of attachments and accessories to carry out a huge range of agricultural tasks, including combine harvesting, irrigation, animal feed delivery and more.
For more information, simply call us on 01569 668 110 to discuss your bespoke requirements.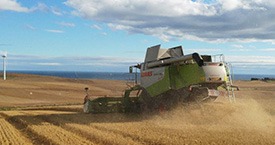 Our company are proud to offer a consistently high quality of service to our clients across Aberdeenshire and Scotland.
We are experienced in working with landowners, farmers and local authorities to cultivate and maintain both private and public lands.
Regardless of the size and nature of the project, you can count on us to provide the highest standard of service.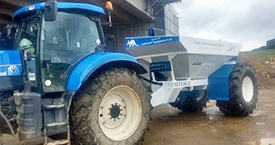 Whether you need regular crop spraying or an emergency snow clearance and gritting, call 07989581010 for a rapid response, 24/7.
Whatever your requirements, we strive to provide a one-stop solution.
In addition to our range of agricultural services, we offer haulage, plant hire and even fencing solutions for local farms. Get in touch for more details.
Local Road Gritting
Are you looking for road gritting contractors in Aberdeenshire and North Scotland?
We offer private road gritting, snow removal and winter maintenance for Aberdeen, Dundee and Peterhead.
Please visit the following sites for local road gritting in your area.
Telford Contracting Ltd
Floors Farm
Muchalls
Stonehaven
Aberdeen
AB39 3PL
07989581010